From September 19th to December 18th, 2013, Hilaneh von Kories Gallery in Hamburg will present Turkey's most important photographer with a selection of his best images. His name - Ara Güler - and his work are legendary. He recently turned 85 and has received many accolades such as "Photographer of the Century", "Documentarian of the Truth", and "Visual Historian". The most accurate characterization of his work would probably be "The Eye of Istanbul". Since the 1950s, Güler has captured vibrant street life, the bustle of the big city and everyday acitvities of its inhabitants more vivid than anybody else. His pictures are full of impressions of sidewalks, shops, the jumble of streets and a traffic mix of horse drawn carriages, busses, and taxis. The special atmosphere of Istanbul is a symphony of buildings, bridges, ships and clouds, where tight and crammed spaces still offer views of a distant horizon. And in the center of all of this we find Güler's main characters, the happy, sad, giddy, melancholic people of Istanbul. What he captured intently, curiously and persistently became a major contribution to Turkish photography.

In the course of decades of his professional career, Güler has become a documentarian of major changes. Istanbul has been thrown into a turmoil of constant and swift transformation while forfeiting its vernacular architecture on a large scale. Traditional lifestyle vanished as well. The Bosporus fishermen are long gone. The old Galata Bridge has been replaced by a new structure. Wooden buildings are getting scarce. Except in the images of Ara Güler, who recorded, as he says, "what was lost in Istanbul".

Born in 1928 in the Taksim neighbourhood on the European side, the heart of modern Istanbul, he was the son of a well-reputated pharmacist whose house in the Beyoğlu district close on the historic peninsula by the Golden Horn he inherited and still lives in. Its many floors have become a personal museum.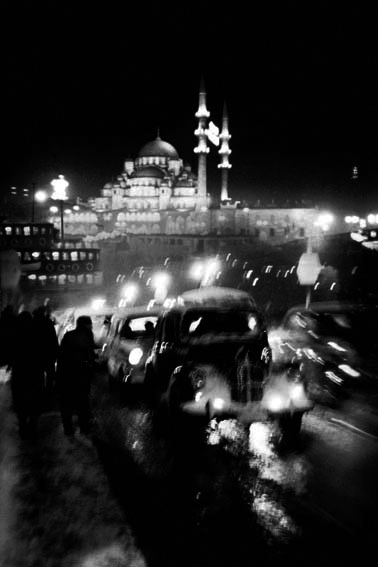 Ara Güler
Straßenverkehr auf der Alten Galatabrücke, 1956
Pigmentprint on Hahnemühle Büttenpapier
45 x 30 cm