March 07th – June 06th 2014
The exhibition will be extended until June 26, 2014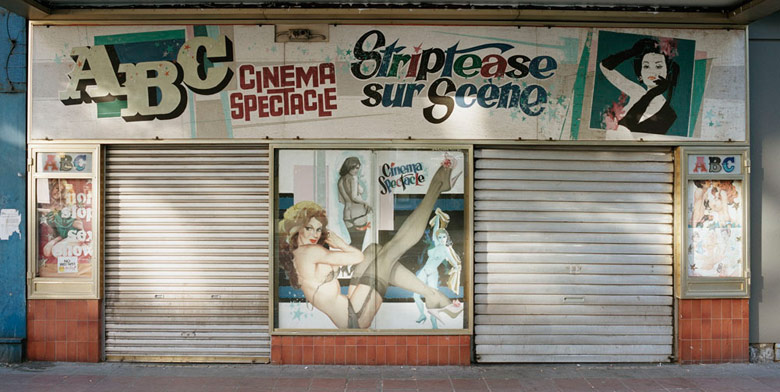 From March 7 to June 6, 2014, Galerie Hilaneh von Kories will show the latest series of works by Stephan Vanfleteren. The Belgian photographer spent the last ten years on this project, but he kept it a secret from all but a few confidants.
Vanfleteren, known for his melancholic, moody black-and-white images and superb portraits surprises with color photography of store facades that seem relicts of another time. He found his motives during numerous forays through the Belgian countryside, in small towns and villages, but also in hubs like Brussels and Antwerp: small stores were, literally, in the forefront of his interest.
They are grocery stores, bakeries, butchers, stores for electrical appliances, shoes and sex shops as well as small cafés and pubs. Signs and billboards, often hand-painted, together with facades that have been neglected over time, form a very special image that lives of the charm of an era long passed. In all of it Stephan Vanfleteren displays an intuition for the visual poetry of transience. The details of this photographs, of peeling paint, weathered materials, shreds of old posters, the patina of everyday life, and the intricate coloration springing from these vignettes have been caught in his consistent compositions.
Vanfleteren documents, in a very personal way, the irreversible loss of the local trader and unpretentious store tradition in a rapidly globalizing world. In times when inner cities and pedestrian zones are dying or dominated by the same chain stores, Vanfleteren succeeded to raise a monument for the store owner. With his photographs, he protests against faceless cityscape and focuses on the uniqueness and the strangeness well knowing that this will vanish from the cityscape. A promise in French such as "Au Tout Va Bien" is still inscribed in the facade, but the shutters are down and the place seems abandoned. Vanfleteren turns this into an abstract composition made of parts of the facade. They do not tell anything about the store behind it. Other then that they are ready for demolition. But from time to time, signs of life are still visible, like the smallish shoe store "Au Palais de la Pantoufle" in Brussels. With a touching coziness and its indestructible window displays, the shop is clearly waiting for clients. 40 photos from this series will be exhibited at Galerie Hilaneh von Kories.
Prints for an artist's book were also culled from this project. The book was presented in March of last year at the Buda Factory in Kortrijk, Belgium, in a spectacular installation. Each copy of an edition of 666 had been clad in lead with title and number engraved. These books served as buildings supplies for an entire house, a monument to the vanishing culture of facades, photographed by Vanfleteren. During the exhibit, this house was supposed to be dismantled, and each buyer was supposed to take a building block, his personal copy, out of the installation. This idea could not be carried out, since all of the books were sold during the opening. By now, they are sought-after collector's items.
Stephan Vanfleteren, born in 1969, is one of Belgium's preeminent photographers. After graduating in photography from art school Sint-Lukas in Brussels, he started his career as a freelancer. In his often radical, black-and-white iconography allowed him to work for Belgian and international newspapers and magazine, i. e. The New York Times, Le Monde, Paris Match, and Die Zeit. His vision goes far beyond Belgium's borders to capture both fascinating people and landscapes. Vanfleteren's typical black-and-white photography, most frequently a mixture of melancholy and nostalgia, has become his trademark – visible in series from all over the world: Images from Columbia, the US, Ethiopia, the Kosovo, and Afghanistan. His keen eye for the little particularities of everyday life brought him a number of honors, among which the World Press Photo Award and the Henry Nannen Preis in 2011. Vanderfleteren's work has been published in numerous books, among which "BELGICUM" and "Flanders", "Tales of a Globalizing World", "Portret 1989-2009" and "Elvis & Presley". With great success, Galerie Hilaneh von Kories presented the exhibition "BELGICUM" from November 2011 to March 2012.
Stephan Vanfleteren:
Façades & Vitrines

March 07th – June 06th 2014
The exhibition will be extended until June 26, 2014
Opening Hours: Tuesday to Friday 2 - 7pm and by appointment
Galerie Hilaneh von Kories
Stresemannstraße 384a (in the courtyard)
22761 Hamburg
Fon: +49 (40) 423 20 10
mail@galeriehilanehvonkories.de
www.galeriehilanehvonkories.de