Sheila Rock:Sheila Rock Vita→ Vita
Spiritual Beings
The Way of the Tibetan Monk
November 19, 2008 to January 30, 2009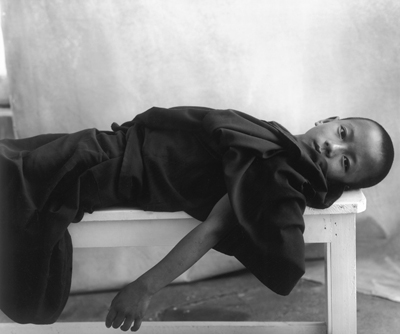 From November 19th 2008 to January 30th 2009, Gallery Hilaneh von Kories will present «Spiritual Beings – The Way of the Tibetan Monk« by American photographer Sheila Rock. The show ties together two series of images, which illustrate the extraordinary sensitivity of a documentarian with a fine-tuned intuition. The first series, and the main part of the exhibit, are photographs of Tibetan monks living in exile in India. The second set of photographs form a collection of portraits, in which she captured the spirit and beauty of the horse, a species which has been celebrated for its strength and grace in all parts of the world over the course of history. The show is her first exhibit in Germany.
Sheila Rock studied film at Boston University and moved to London in the Seventies where she became an influential force shaping the look of creative magazines like THE FACE and the visual style of an era. Her sense for characteristic images is revealed in her portraits of famous musicians. During her encounters with a variety of celebrities she was able to refine her craft and gain a special insight into human nature. She discovered that people have a certain "quality of light" which can be captured on film.
A persuasive kind of quietness is one of the aggregate aesthetic characteristics in her images of Buddhist monks in Sera Monastery and their ascetic daily life and rituals. These photographs are an extended visual essay on a state of mind – portraits of monks, both young and old, who share a common social and philosophical idea in Tibetan Buddhism. Tranquility, clarity and serenity are expressed in these compelling images. The photographs are luminous and intimate and create their own »sacred visual space«, says Robert A. F. Thurman who wrote the introduction to her book »Sera - The Way of the Tibetan Monk«, which was first published in 2004 by Columbia University Press in New York.
The whole series evolved out of her own spiritual journey, during which she met His Holiness the 14th Dalai Lama in India. Sera Monastery was reformed by Tibetan monks whose monastery was destroyed during the Chinese invasion in 1958 and whose inhabitants were forced into exile. It was in 1998, when Sheila Rock first traveled to Sera Jey and in the course of four years she returned several times.
Sheila's Tibetan portraits paralleled her work with her horse portraits. She was drawn both to their visual grace and beauty and the myth and symbolism that are associated with the Horse. "They are beautiful creatures that inspire mythology. I've thought in romantic terms – like the old English master painters – and reflected on childhood dreams and memories. I've been inspired by their physicality and their seductive forms. "Her approach was often to create a studio setting and isolate the Horses to make them appear more like icons or symbols.
During her studies at Boston University, Sheila Rock imagined she would become a documentary filmmaker focusing on »Qumanitarian, socially conscious issues.« Instead, at first, she was drawn to still photography and extroverted entertainment personalities. Her portraits of well known singers and musicians such as Placido Domingo, Sting, Youssou N'Dour, Sir Simon Rattle und Enya were published by magazines such as Vogue, Elle, Glamour, and The Sunday Times of London. Several of her images are part of the permanent collection of the National Portrait Gallery in London.
Her recent work indicates her move back to humanitarian and socially conscious issues. In the process she discovered something else: »Perhaps, at the end of the day, I am a portrait photographer«, she has said. »I do try to connect with the person I photograph. Even in a commercial job, I try to get some kind of emotion and spirit from whoever I'm photographing. We are all spiritual beings.«
Sheila Rock:
Spiritual Beings
The Way of the Tibetan Monk
November 19, 2008 to January 30, 2009
Vernissage: November 19, 2008, 19:00h | Laudatio: Dr. Anupama Kundoo
Opening Hours: Tuesday to Friday 14:00–19:00h and by appointment
Galerie Hilaneh von Kories
Stresemannstraße 384a (in the courtyard)
22761 Hamburg
Tel: +49 (40) 423 20 10
mail@galeriehilanehvonkories.de
www.galeriehilanehvonkories.de
This exhibition in the media