November 21, 2007 to February 28, 2008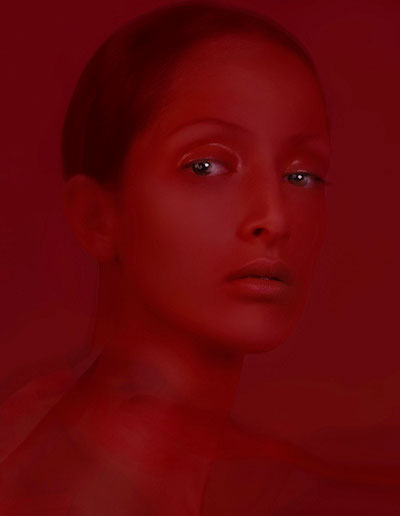 In its latest exhibtion Hilaneh von Kories Gallery will present new works by photo artist Corinna Holthusen.
The show titled »[M] Reflections« (November 21, 2007 to February 28, 2008) consists of a new cycle of large format portraits and body images, which are a continuation of Ms. Holthusen multi-faceted skeptical contemplations about the reality of the human image and its depictions in the field of photography.
Ms. Holthusen creates digital composite photographs, which are originated by utilizing analog large format cameras in a studio setting.
After the images are converted into digital data she takes other photos and combines and layers them in her computer to conceive new dizzying creations.
The results are wonderful faces immersed in red with intense fervent eyes and female nudes with a sculptural depth dimension which suggest seductiveness, sensitivity and sultriness. At the same time they hint at a physicality not based in reality.
Her portraits of young people are irritating as well, because their perfect facial features exist in a conflict with real and digitally produced layers. In the end, Ms. Holthusen's playful use of classical elements of portrait art including stylized posture and a modern concept of beauty produces an unsettling effect.
The images provoke emotional reactions, while preventing viewers from grasping any quick assertion, because the artist never hides the inherent technical manipulation. Looking at these pictures leads to a critical examination of a world of ubiquitous public photography with its notion of perfection and beauty.
Corinna Holthusen lives in Hamburg. She has received many awards for her artistic accomplishments.
Corinna Holthusen:
[M] Reflections
Digital Composites
November 21, 2007 to February 28, 2008
Vernissage: November 21, 2007, 19:00h | Laudatio: Dr. Wolf Jahn
Opening Hours: Tuesday to Friday 14:00–19:00h and by appointment
Galerie Hilaneh von Kories
Stresemannstraße 384a (in the courtyard)
22761 Hamburg
Tel: +49 (40) 423 20 10
mail@galeriehilanehvonkories.de
www.galeriehilanehvonkories.de
This exhibition in the media