May 10 to June 29, 2011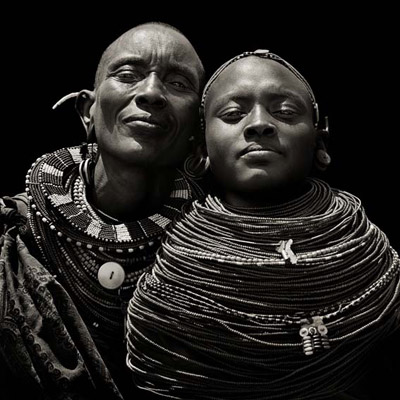 Hamburg, April 2011 – A homage to the most vulnerable people of this world will be on display in a new exhibit at Hilaneh von Kories Gallery. The show has the title "Dignity" and consists of a selection of images by American Dana Gluckstein. The exhibit which is shown from 10th of May until 29th of June in the Galerie Hilaneh von Kories is part of the 50th anniversary of Amnesty International.
The show is a culmination of the museum-collected body of work of the Los Angeles-based photographer who for over three decades has captured the likeness and the lifestyle of indigenous peoples – groups who maintain their ancestral culture and societies – fighting for their very lives.
Dana Gluckstein studied psychology, painting, and photography at Stanford University, where she realized the power of images to shape consciousness. In her 30-year career, she has captured cultural luminaries from Halston and Jane Russell to Mikhail Gorbachev and Nelson Mandela with her vintage Hasselblad camera. But she found her most important work in photographing indigenous communities around the globe and turned her journeys to sometimes rather remote places into a deeper challenge of how to find a mission in life and, what's more important, a voice, a thought process she described in a recent interview with American Elle magazine: "What is it that we're going to say with our limited time here? How are we going to make our days count, to do the most that we are able to do? Especially as a woman, figuring out what to focus on, with all the balls we have to juggle."
Some of these trips have become a testament to the ongoing struggle of indigenous peoples to survive. When she visited the San Bushmen in Africa she discovered the decimation of their culture. "Diamond mining concessions are forcing the Bushmen off their lands and forcing them into squalid settlement camps, which are rampant with alcoholism, tuberculosis, and AIDS. These people are the most ancient culture on earth; they subsist on the land. Their rituals demand that they hunt for skins, and the government is now requiring them to buy a hunting license in order to hunt."
Dana Gluckstein, whose ancestors came from shtetls on the borders of Poland and Germany, some of whom perished in the camps of the Holocaust, seems to have always felt a distinct connection to the struggle for survival. And that includes her relationship to an old Hasselblad camera and her work with film. "Film is cumbersome", she says. "But it makes me feel like I'm really making a statement and that I have to really think about what I'm doing, because it's arduous and limited. You can't just snap-snap-snap and delete. I think of it now as almost like my own sacred ritual."
Her images are black and white or sometimes sepia colored and exude the power of pathos while drawing in the observer. Something South African Archbishop Desmond Tutu referred to when he wrote the introduction to the book that has been published alongside the exhibit: "The Indigenous Peoples have a gift to give that the world needs desperately, this reminder that we are made for harmony, for interdependence. If we are ever to prosper, it will only be together… The work of Dana Gluckstein helps us to truly see, not just appearances, but essences, to see as God sees us, not just the physical form, but also the luminous soul that shines through us."
The images have been printed with Archival Pigment ink on Moab Entrada paper. Dana Gluckstein and gallery owner Hilaneh von Kories will support Amnesty International with a share of the proceeds from the sale of the pictures.
Dana Gluckstein
"Dignity – Die Würde des Menschen"
Terra Magica 2010

The publication accompanying the
exhibition is available in the gallery.
Dana Gluckstein:
Dignity. Die Würde des Menschen

May 10 to June 29, 2011
Vernissage: May 10, 2011 19h
Welcome Speech: Barbara Hermanns, Amnesty International, Hamburg.
Introduction: Prof. Gerd Fleischmann
Opening Hours: Tuesday to Friday 14:00–19:00h and by appointment
Galerie Hilaneh von Kories
Stresemannstraße 384a (im Hof)
22761 Hamburg
Fon: +49 (40) 423 20 10
mail@galeriehilanehvonkories.de
www.galeriehilanehvonkories.de
This exhibition in the media
Radio

NDR 90,3 am 10.05.2011