Herbert Dombrowski:Herbert Dombrowski Vita→ Vita
Light Over Altona
Portraits from a working class neighborhood in Hamburg in the mid 1950s
September 5 to October 30, 2007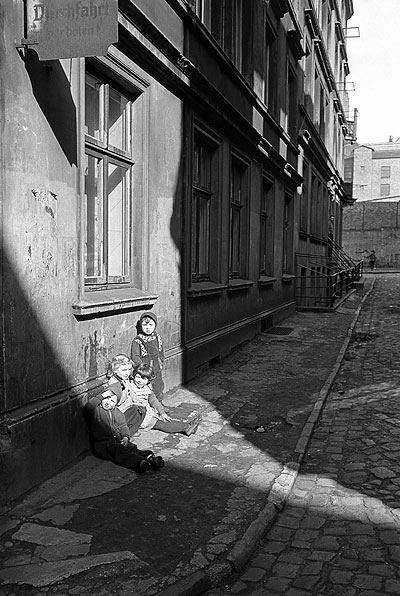 Striking black and white images from the post-war years in one of Hamburg's working class neighboorhoods will be on display in a new exhibit at Hilaneh von Kories Gallery. »Light Over Altona« (September 5, to October 20, 2007) is a sequel to an earlier show focusing on the work of photographer Herbert Dombrowski.
The port city of Hamburg had been heavily targeted by Allied bombing raids during World War II. More than half of its buildings were destroyed. One of the worst hit areas was the borough of Altona where, several years later, people still had to live in ramshackle make-shift housing and emergency shelters. In the early 50s, city planners and Neue Heimat, a major real estate developer owned by trade unions, started to initiate a wide-ranging rehabilitation program. Old buildings with small apartment units were slotted to be torn down and to be replaced by modern tenements surrounded by green public spaces.
In 1954, before the demolition began, Neue Heimat assigned Herbert Dombrowski to photograph the affected area in Eastern Altona, between the train station called Holstenbahnhof and the Elbe river. As he captured the imagery of the neighborhood, he went beyond simply documenting what was there. His photos caught the life and the stories of people who lived in narrow streets and wore shabby clothes. Dombrowski took pictures of children at play and men who were collecting scrap iron and rags for a living. He collected impressions such as the clotheslines in backyards full of freshly washed linen and of the smoke from coal-burning stoves lingering in the air, visible in backlit shots. The atmosphere in these frames are a strong visual testimony of a time long gone.
»Light Over Altona« marks the second cooperation between Hilaneh von Kories Gallery and Herbert Dombrowski, the 90-year –old artist who will attend the opening. It was preceeded by a show titled »Every Picture Came My Way« two years ago. The roots for »Light Over Altona« go back to an exhibit of Dombrowski's photographs in Altonaer Museum in 1997. After she reevaluated the material, Hilaneh von Kories felt inspired to put together a new, edited version of the same subject. The exhibit contains 50 museum-quality images, which were hand-printed on silver gelatine paper (Baryt) by Mika Väisänen.
Herbert Dombrowski was born in Hamburg in 1917 and started to take pictures as a high school student. He was 19 years old when his image of SS St. Louis was published as a cover photo by the magazine »Reclams Universum«. Dombrowski had taken the image at night in Hamburg harbor with a used Leica camera. Three years later the ship gained notoriety when it sailed to Havana, where 900 Jewish refugees were denied entrance to Cuba and the United States. The ship had to turn back and more than 600 of its passengers later died in German concentration camps.
After the war, Dombrowski began to work as a professional photographer. He opened up a small studio in the borough of Eppendorf, initially assigned by a furniture store and the local organization of professional hairdressers. During the summers of 1949 and 1950 he worked as the beach photographer in Timmendorfer Strand, a resort at the Baltic Sea, and learned how to deal with people as subjects. Aside from extensive assignments such as documentation of all of the housing in the borough of Altona for Neue Heimat, he developed a journalistic eye for regular people in their daily surroundings. He was hired by Hamburger Journal, Stern Magazine and the news weekly Der Spiegel. In the sixties his style was discovered by advertising agencies. He worked successfully for companies such as Volkswagen, BMW and ESSO.
He retired in 1985. His body of work is represented by Hilaneh von Kories Gallery.
Herbert Dombrowski:
Light Over Altona
Portraits from a working class neighborhood in Hamburg in the mid 1950s
September 5 to October 30, 2007
Vernissage: September 5, 2007, 19:00h | Laudatio: Prof. Dr. Torkild Hinrichsen
Opening Hours: Tuesday to Friday 14:00–19:00h and by appointment
Galerie Hilaneh von Kories
Stresemannstraße 384a (in the courtyard)
22761 Hamburg
Tel: +49 (40) 423 20 10
mail@galeriehilanehvonkories.de
www.galeriehilanehvonkories.de
This exhibition in the media