Herbert Dombrowski:Herbert Dombrowski Vita→ Vita
in memoriam
Remembering Herbert Dombrowski
October 1 to December 30, 2010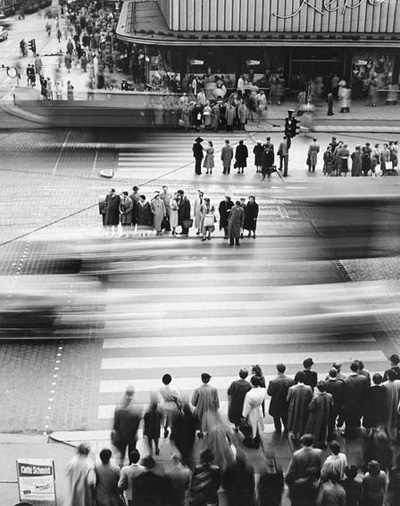 From October 1, to December 30, 2010 Hilaneh von Kories will show "Herbert Dombrowski in memoriam – Remembering Herbert Dombrowski". The exhibit is an hommage to photographer from Hamburg who died of age in May. It includes a selection of his best black-and -white images and a number of vintage prints.
Herbert Dombrowski was born in Hamburg in 1917 and began to take pictures as a high-school student. He was 19 when he went to the Hamburg port at night to photograph the SS St. Louis. The image, taken with a used Leica camera, was published on the cover of Reclams Universum, a popular illustrated magazine. Three years later the ship's name became synonymous for the plight of German Jews, when it carried 900 refugees who were barred from entering Cuba and the United States and had to return to Europe. The ordeal took 50 days. More than 600 of the SS St. Louis passengers later died in concentration camps.
After the war Herbert Dombrowski started a career as a professional photographer. He opened a small studio in the Hamburg neighborhood of Eppendorf and began to work for a furniture store and the local hairdresser's guild. During 1949 and 1950 he made money by taking pictures of beachgoers in Timmendorfer Strand, a seaside resort on the shores of the Baltic Sea, and learnt how to interact with people directly.
Aside from extensive assignments such as a documentary of all of the old housing stock in the borough of Altona for Neue Heimat, the owner of a huge number of apartment buildings (1953-1956), he developed a journalistic eye for regular people in their daily surroundings. He shot images of shipyard workers and ships in Hamburg harbor, female spectators at the race tracks in their elegant dresses, men at the stock exchange, people in the streets, in market places such the Fischmarkt or in the district of St. Pauli.
He photographed for Hamburger Journal, Stern Magazine and the news weekly Der Spiegel. "I got into Stern because of a series of photos I had a shot at Ballhaus Jahnke in St. Pauli - at a dance hall. There I took pictures of sailors and hookers", Dombrowski said. Editor-in-chief Henri Nannen was enthusiastic and published the series.
In the sixties his style was discovered by advertising agencies. He worked successfully for companies such as VW, BMW and ESSO. He retired in 1985. He died in May 2010 at the age of 93.
Herbert Dombrowski's images are timeless while accurate and pinpoint documents of his time. He never took more than one exposure of any given motif. Something Professor Dr. Torkild Hinrichsen, the Director of the Altona Museum, wrote about in the Magazine Profifoto: "All his life Dombrowski never changed his style. He knew that a picture can never be repeated. Still, his snapshots captured moments of lasting value, in black-and-white, and, of course in grey, without which the two others are nothing."
Zur ersten Schicht, 1958
Herbert Dombrowski: Esso Deutschland in einem Atlantik-Sturm, 1963
Alu-Dibond with protective UV foil, 103 x 160 cm, also available as Gelatin Silver Print

Esso Deutschland in einem
Atlantik-Sturm, 1963
Hilaneh von Kories Gallery, which represents the artist's work exclusively, will exhibit about 50 of Mr. Dombrowski's images. These photographs (printed on silver gelatine Agfa Multicontrast paper) are riveting case studies of his capacity to capture intensity and atmosphere. In addition the gallery will show a number of vintage prints from the Dombrowski estate.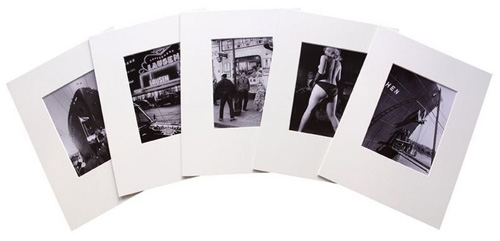 At the same time collectors
will have the opportunity to
acquire a new special edition
set (in a box)of five images on Hahnemühle Baryt paper.
Herbert Dombrowski:
in memoriam
Remembering Herbert Dombrowski

October 1 to December 30, 2010
Vernissage: September 30, 19:00h | Laudatio: Prof. Dr. Torkild Hinrichsen
Opening Hours: Tuesday to Friday 14:00–19:00h and by appointment
Galerie Hilaneh von Kories
Stresemannstraße 384a (in the courtyard)
22761 Hamburg
Fon: +49 (40) 423 20 10
mail@galeriehilanehvonkories.de
www.galeriehilanehvonkories.de
This exhibition in the media