Herbert Dombrowski:Herbert Dombrowski Vita→ Vita
Every picture came my way
Hamburg's harbor, red light district and horse race
November 3, 2005 to January 31, 2006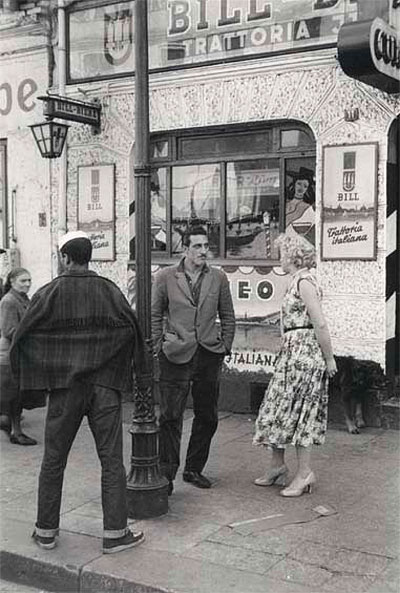 Hamburg, September 2005 - From November 3, 2005 to January 31, 2006, Galerie Hilaneh von Kories (Hilaneh von Kores Gallery) in Hamburg will exhibit black and white Hamburg scenes, which were photographed by Herbert Dombrowski in the Fifties.
Herbert Dombrowski was born in Hamburg in 1917 and started to take pictures as a high school student. He was 19 years old, when his image of SS St. Louis was published as a cover photo by »Reclams Universum«, a magazine. He had shot the image at night in the Hamburg harbor with a used Leica camera. there years later the ship gained notoriety, when it sailed to Havana where 900 Jewish refugees were denied entrance into Cuba and the United States. The ship had to turn back. More than 600 of its passengers later died in German concentration camps.
After the war Dombrowski began to work as a professional photographer. He opened up a small studio in the borough of Eppendorf, initially had assignments for a furniture store and the local organization of professional hairdressers. During the summers of 1949 and 1950 he worked as the beach photographer in Timmendorfer Strand, a resort at the Baltic Sea and learned how to deal with people as subjects.
Aside from extensive assignments such as a documentary of all of the old housing stock in the borough of Altona for Neue Heimat, the owner of a huge number of apartment buildings (1953-1956), he developed a journalistic eye for regular people in their daily surroundings. He shot images of shipyard workers and ships in Hamburg harbor, female spectators at the race tracks in their elegant dresses, men at the stock exchange, people in the streets, in market places such the Fischmarkt or in the district of St. Pauli. »Every picture really came my way«, says Dombrowski.
He photographed for Hamburger Journal, Stern Magazine and the news weekly Der Spiegel. "I got into Stern because of a series of photos I had a shot at Ballhaus Jahnke in St. Pauli - a dance hall. There I took pictures of sailors and hookers", says Dombrowski who is 88 years old. Editor-in-chief Henri Nannen was enthusiastic and published the series.
In the sixties his style was discovered by advertising agencies. He worked successfully for companies such as VW, BMW and ESSO. He retired in 1985.
Herbert Dombrowski: Esso Deutschland, im Atlantik-Sturm, 1963
Alu-DIBOND with protective UV foil, 160 x 103 cm

Esso Deutschland

Überfahrt Zur Werft
A selection of about 50 of Dombrowskis best images are now being shown under the headline »Every picture came my way« at Galerie Hilaneh von Kories (Hilaneh von Kories Gallery). The black and white pictures, developed by Labor Partner Fotochemie and printed on silver gelatine paper (Agfa Multicontrast Classic) are impressive examples of an intense, intricate atmosphere captured within the time frame of the fifties, which in Germany was a period of new beginnings.
Herbert Dombrowski:
Every picture came my way
Hamburg's harbor, red light district and horse race
November 3, 2005 to January 31, 2006
Vernissage: November 3, 2005, 19:00h | Laudatio: Prof. Dr. Torkild Hinrichsen
Opening Hours: Tuesday to Friday 14:00–19:00h and by appointment
Galerie Hilaneh von Kories
Stresemannstraße 384a (in the courtyard)
22761 Hamburg
Tel: +49 (40) 423 20 10
mail@galeriehilanehvonkories.de
www.galeriehilanehvonkories.de