Arve Dinda:Arve Dinda Vita→ Vita
Heaven
Photographs from above the Opera Stage
May 9, 2007 to July 13, 2007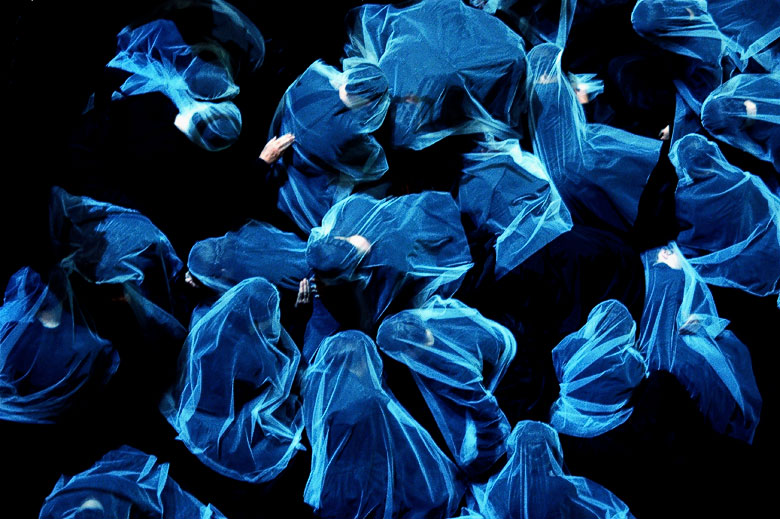 The curtain lifts. Spectators curiously take a glance at the opera stage. Singers focus on each other, fully concentrated. Musicians in the orchestra pit try to catch the eyes of the conductor. Way above this scene we find Arve Dinda, hovering over the entire stage, looking at the opera below and taking pictures with a point of view that nobody has ever imagined before.
These images look like paintings in which the cast of »Freischütz«, in its glowing costumes, creates scenic formations on the stage of the Hamburg Opera - which has its unique texture and markings to be used in line with the artistic direction.
You see »Lohengrin« in Bayreuth where the »Bridal Chorus«, sung by women in blue gowns, takes on a new dimension: The picture seems to show a large blooming flower. The »Rosenkavalier« production in Graz generates an image in which the singers, blots of color and patterns, are multiplied by mirrored walls of the mise-en-scène. It forms a bizarre kaleidoscope.
Arve Dinda grew up in Halle/Saale, at the time a part of East Germany. As a teenager she was involved in opposition groups. Dinda studied theology in Leipzig, but in 1982 she was forced to emigrate to West Germany along with her son. First, she lived and worked in the province of Baden-Württemberg. In 1995 she moved to Hamburg, where she now works as a freelance photographer.
In her work she focuses on capturing opera scenes. She shoots portraits of artists and artistic performance projects. She likes to challenge herself again and again by trying to look at different layers of reality from different angles. Her body of opera images was created in places like the Hamburgische Staatsoper, during the Bayreuth Wagner Festival, at the Semper Oper in Dresden and the Opernhaus Graz.
During the exhibition, the image »Tannhäuser« will be sold as a special edition and the proceeds donated to the Hamburg Leuchtfeuer hospice.
Arve Dinda:
Heaven
Photographs from above the Opera Stage
May 9, 2007 to July 13, 2007
Vernissage: May 9, 2007, 19:00h | Laudatio: Thorsten Weber
Opening Hours: Tuesday to Friday 14:00–19:00h and by appointment
Galerie Hilaneh von Kories
Stresemannstraße 384a (in the courtyard)
22761 Hamburg
Tel: +49 (40) 423 20 10
mail@galeriehilanehvonkories.de
www.galeriehilanehvonkories.de
This exhibition in the media
Radio

Arve Dinda: Opernhimmel