September 2 to November 11, 2011
The exhibition will be extended until November 11, 2011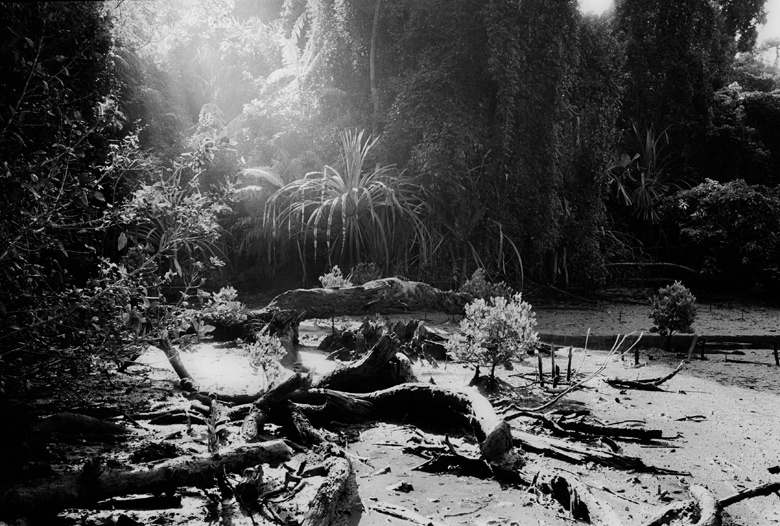 On September 1st, 2011, Hilaneh von Kories Gallery will open its new exhibit titled ANDAMAN featuring unpublished images by Berlin-based photographer Andreas Deffner. The show will run until October 28th.
These photographs offer a fascinating window into the strange and distant world of the Andaman Islands, an archipelago in the Bay of Bengal about 670 sea miles West of Thailand and 150 sea miles South of Birma. It is an Indian territory with about 250,000 people on 204 islands including members of the Karen, an ethnic group who had been brought to the archipelago from the Burman mainland as forest workers 90 years ago.
Andreas Deffner is a passionate traveller and a knowledgable explorer of the subcontinent, who first got to India because of his love for a woman more than twenty years ago. He quickly fell in love with the whole country and decided to put down roots and began to shuttle between Berlin's Prenzlauer Berg district and the hurly-burly life in India, where he finds spectacular and quiet stories and captures them with his camera.
Ever since that time one of his subjects has been the remote and closed-off archipelago of the Andaman Islands, which is considered to be one of the few untouched places left in the world. Deffner dived into its culture and visual richness and developed his own specific visual language to express what he saw. His interest went beyond your typical point of view of travel publications. His remarkable and intense black-and-white images reveal a personal relationship with a foreign and mystifying part of the world. His portraits are touching and are accentuated by fascinating landscapes and pictures about the life of the local population.
Between 1999 and 2006 Deffner went to the Andaman Islands for weeks at a time. Because the Indian government tends to prevent visitors from freely roaming around he experienced jail time and was suspected to be a spy. To circumvent the difficulties he tagged along with official trips by scientists, supported by Madras Crocodile Bank Trust, which runs a base camp called A.N.E.T. (Andaman and Nicobar Enviromental Team) near Wandoor at the southern tip of South Andaman Island.
These trips with Dr. Rauf Ali and Manish Chandri, an environmentalist and anthropologist got him in touch with local Karen people who work for A.N.E.T. running boats and assisting in scientific work and allowed him to get to see all of the archipelago. The only part he did not visit were the Nicobar Islands further south which are closed off to foreigners.
Among the generous and very hospitable Karen people was one gentleman in particular who stood out. 70 year-old boater Saw Pauw, who as an elder had enormous standing in the community and opened doors in local villages and communities for Deffner and his group. Some of these settlements consist of only three huts and are rather difficult to reach, either by boat or by hiking through the jungle. Getting so close and being trusted by the villagers Deffner was able to learn about native customs including ceremonial ways practicing natural medicine. He captured images, which tell personal and unusual stories.
The show's 27 black-and-white images taken between 1999 and 2004 are accompanied by four color photos from 2006. They show some of the changes brought on by the devastating tsunami of 2004.
"India has become my second home. It maybe because of my interest in traveling and their adventures, but more importantly I find strong visual impressions, nice dose of anarchy and unfinished placed inspiring", says Andreas Deffner.
Born in 1959 Deffner studied photography and communication design and started to work as a free-lance photographer in 1980. After living in Paris and Hamburg he moved to Berlin. He spends quite a bit of time at his second home in Tamil Nadu in Southern India.
With the new exhibit Deffner and Hilaneh von Kories Gallery continue their successful collaboration, which in 2006 produced the exceptional show "White, too white" with portraits of people in India who suffer from albinism.
All black-and-white images have been captured with a Leica camera printed on Museum SilverGloss White paper. The color photos are C prints, captured with a Mamiya 7 camera.
On the occasion of the exhibit a limited edition of twelve pictures in a handcrafted granite box will be available as well as an edition of two Polaroids Type 55 in one single frame.
Andreas Deffner will attend the opening on September 1st. He will be introduced by journalist Melanie von Bismarck.
Edition in granite box
12 Prints on Museum SilverGloss White Paper
Picture size 21,5 x 32 cm
Sheet size 24,3 x 34,3 cm
Box size 27,5 x 37,5 cm
Edition 25 + 2 AP
numbered und signed
Andreas Deffner:
ANDAMAN
September 2 to November 11, 2011
The exhibition will be extended until November 11, 2011
Vernissage: September 1, 2011, 19:00h
Introduction: Melanie von Bismarck, cultural journalist
Artist is present
Opening Hours: Tuesday to Friday 2 - 7pm and by appointment
Galerie Hilaneh von Kories
Stresemannstraße 384a (in the courtyard)
22761 Hamburg
Fon: +49 (40) 423 20 10
mail@galeriehilanehvonkories.de
www.galeriehilanehvonkories.de